Collection:

Multi-Post Sign Frames
Our sign frames are designed to be easily mounted to nearly any surface: T-Posts, U-Posts, Round Posts, Chain Link, Gates, Fences, Buildings, Trees, just about anywhere. Beyond that they not only protect your sign from the elements but they make absolutely sure that your sign get noticed!
They are sold either individually or in boxes of 10 for your convenience.
Multi Post Sign Frame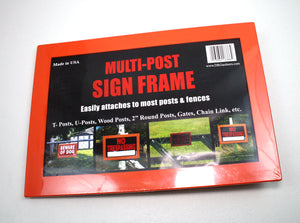 Box of 10 Multi Post Sign Frames